Connecting Project Developers & Capital
Networking is back with Solar Media! Whether it's a fast and fun speed networking session, private and professional 1-2-1 meetings or Solar Media's insightful topic-based round tables, they're giving you as much time as possible to connect, confer and meet new partners.
Best-in-class content: Powered by Solar Media, the brand behind PV-Tech, Energy Storage News, Solar Power Portal and Current± News, their in-house editorial, production and research teams bring you content that just isn't available anywhere else.
Available at a time that suits you: Live stream or on-demand – our platform makes content available at a time which suits you.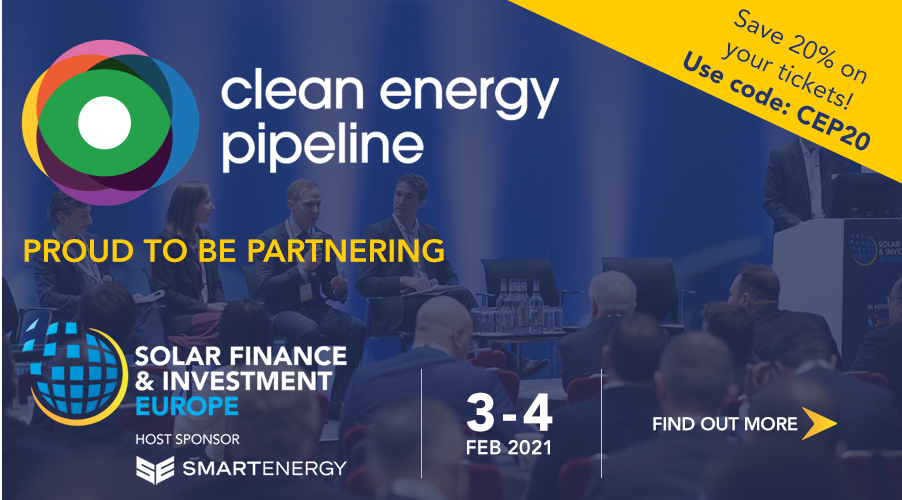 Conference Content
Exclusive merchant power forum: will help ready you with in-depth content showing you how to attract capital, how to monetize a project and how to de-risk a project.
The covid19 aftermath: expert content showing you how to harness the European Green Deal and Build Back Better movement, who's still ready for business and alternatives to project finance in a constrained environment.
The solar atlas: see where to develop in 2021 and find out new business opportunities in hot markets such as Ireland, Portugal and the UK. Hear about how new business models could burst market bubbles and whether power prices will bounce back.
Optimize your projects: see how you can deal with underperforming assets, which projects might be ripe for new tech such as bifacial panels and how to really utilise data to supercharge your revenue.
The wider opportunity with solar, storage and hydrogen or floating solar: as the world moves towards electrification and a new green hydrogen economy.
Country Workshops: The main conference is happening on 3-4 February but throughout February delegates of #SFIEurope can attend workshops for seven of the key markets across Europe:
9th February – Portugal workshop
11th February – Spain workshop
16th February – Poland workshop
18th February – Sweden workshop
19th February – Denmark workshop
23th February – UK workshop
24th February – Republic of Ireland workshop
View the full agenda: https://go.pardot.com/l/83602/2020-09-07/grpff3
With more networking opportunities than ever before, find out more:
https://financeeurope.solarenergyevents.com
Who Will You Meet?

Download the 2020 Attendee List: https://go.pardot.com/l/83602/2019-12-02/fv6m7f
Testimonials
"SF&I Europe is every single year the masterpiece conference in the solar landscape." Alberto Paturzo, Bluefield
"Great networking atmosphere and an opportunity to have casual but deep exchanges with other industry experts." Istambuli, Grupo Gransolar
"It was very important event to understand the financial market trends and how to access finance for our projects." Paulo Amante, Island Renewable Limited
"The event had all the key fraternity members including solar asset owners, investors, banks and developers in the region. It provided excellent opportunity to network with various companies from different countries like UK, Spain, Italy, Portugal, USA, China South Korea, Poland, Singapore,
Germany, India, Norway and Japan. The networking dinner was a great way to make many new friends." Sachin Jain, Oriano Solar
"The conference was an excellent opportunity to get right up to date on the latest activities in and attitudes of the major players in the solar PV sector." Charlie von Schmieder, Raycatch
"Solar Finance Europe is a key conference for us, it is great to get a concise overview of the European markets and meet with many of our clients investing in solar projects across the region." Shawn Shaw, Natural Power