On 09 – 10 November 2021, supported by the Ministry of Industry and Trade Vietnam (MoIT), Vietnam Electricity (EVN), ASEAN Wind Energy 2021, a part of Vietnam Clean Energy Week will be held at The Adora Center, Ho Chi Minh City, bringing together thousands of participants to support the region's Onshore & Offshore Wind Value Chain and help Vietnam develop an entire supply chain for the wind industry.
In 2020 June, the Vietnamese Prime Minister approved an additional 7GW of new wind projects to be added to the country's master plan for the power sector. The wind sector is expected to bring 65,000 jobs and around $4 billion of investment into Vietnam by 2025. Vietnam has been widely recognized for quickly becoming a regional leader of clean energy in South East Asia and attracting investment commitments from a number of world-class companies in the sector.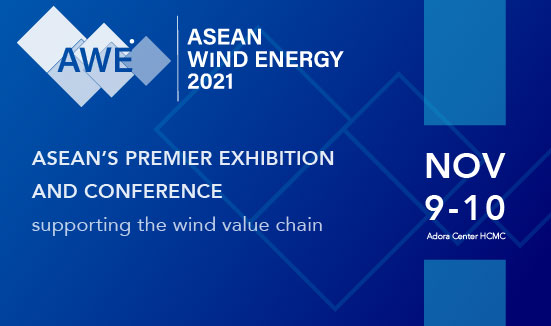 EXHIBITION
To showcase the possibility in Vietnam's wind energy industry, the AWE exhibition will provide a premier networking platform with multiple opportunities to meet CEO/VP-level end-users, manufacturers, and wind tech solution suppliers from around the world, with over 30 countries
represented. From components, devices, various services to wind turbines…a wide range of cutting-edge products and technologies will be exhibited
Offshore Wind: SEP (Self Elevating Platform), Submarine Cable, Seafloor Investigation, Floating Foundation, Project Management/Consulting, Offshore Wind Farm System
O&M: Maintenance Service, Rope Work, Non-destructive Inspection Technology, Remote Monitoring System, Equipment for Working at Height, Torque Wrench
Wind Power Generation System: Large Wind Turbine, Medium-size Wind Turbine, Sales of Wind Farm, Design Tool, Consulting for Wind Turbine Introduction
System Component: Blade, Tower, Bearing / Transformer, Lubricant, Driving Part, Speed-up Gearbox
Check out the floor plan here: https://www.aseanwindenergy.com/floorplan
Visitors are free of charge. To get your passes and learn updates about the event, visit the official website: https://www.aseanwindenergy.com/free-visitor-pass
CONFERENCE
The Mission of AWE2021 is to be the main trading platform for Vietnam, extending to ASEAN. To bring together international and local players to help ASEAN develop an entire supply chain for the wind industry.
2021 Featured Topics
MoIT // Roadmap for Wind Power Development and Policy Updates in Vietnam
CEO Forum // How Can Wind Energy Play A Bigger Role in Vietnam's Energy Transition?
Developers Talk // ASEAN Wind Market to Watch
Finance & Investment // Wind Auction System in Focus – Vietnam and the Asia Pacific
Project Roadshow // Wind Projects Business Match-making Session
Offshore Wind Symposium // Expedite Offshore Wind Energy Development
Integration Workshop // Optimize Performance Reliability to Encourage Deployment
About Organizer – Leader Associates.
Leader Associates, as a global leading renewable energy event organizer, is committed to clean energy and stands at the forefront of environmental sustainability. We put faith in our work to make renewable energy available and affordable through practical business platforms and non-business programs.
For more information, please contact:
Cami Wang
Marketing Manager
Email: [email protected]
Telephone: (+86) 156 1856 0256